Media Company to Produce In-Demand Female Centric Content | Georgia, USA - USMC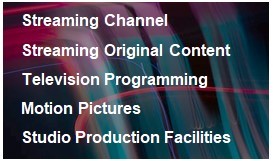 USD 35,500,000
Spent so far: USD 3,000,000
Can spend more: No
Georgia
Assured repayment by: Other Off-Take Agreement
Shovel Ready Indicators:
LTV Expectation: 90%
Land/Site: In discussion with landowner
EPC Contracts: Draft form
PPA/OMA or other off-take agreements: Draft form
Financial Projections: Completed and available
Most PFX listed opportunities qualify for A+-rated Insurance Wrap
A United States Media Company has been created by a team of experienced female entertainment professionals, both of which are long-time producers, writers, and directors, along with a strong roster of entertainment industry veterans and marketing and finance executives who will establish the core management and the team of strategic partners. We have established pre and post-production sales through an industry leader as our offtake partner. The company plans to produce much needed and programing targeted directly to women aged 40-65. The company will produce original and requested streaming content in great global demand. The company will produce as original television programming and low budget films to be distributed on traditional and streaming platforms based on orders and needs. As a content producer, the company will be launched at an ideal time when "content is king" and consumers and highly liquid content acquirers have an insatiable desire for quality content. The company plans to build a facility in Georgia to house ongoing productions and administrative offices. Film and Television Production Incentives, in the form of sellable tax credits and cash rebates, are expected to net the company $70.3m along with State and County economic incentives of $5.2m in incentives.
| USD | Year 1 | Year 2 | Year 3 | Year 4 | Year 5 |
| --- | --- | --- | --- | --- | --- |
| Turnover | 11,380,809 | 69,535,127 | 161,568,155 | 222,411,762 | 217,262,854 |
| EBITDA | -15,545,848 | 13,232,482 | 47,007,285 | 122,569,717 | 145,245,876 |
| % | -137% | 19% | 29% | 55% | 67% |